Towne Engineering, Inc. has been your premier Engineering firm since 1975. For over 36 years we have provided superior Civil Engineering, Surveying, development construction services and site supervision.

Our expertise encompasses all phases of private residential issues, from planning for industrial buildings to completing Municipal projects as cost effectively as possible. We will sit down and go over any questions that you have and give you options to complete your project. We pride ourselves in always developing a fully constructable design based both on our Engineering and Construction knowledge which we believe sets us aside from our competition.

Our office is conveniently located in Willimantic, Connecticut on Richmond Lane, next to Landon Tire off of Route 32.

Look for our red Towne Engineering, Inc. trucks.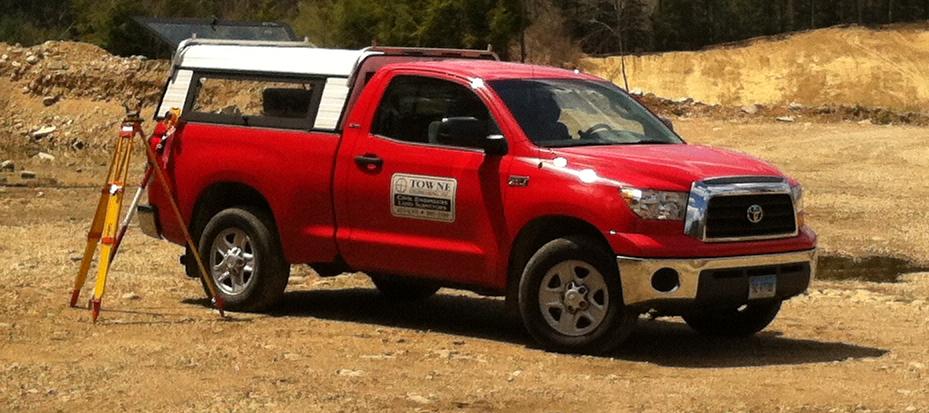 We offer forthright information based on years of experience on the steps that need to be taken to achieve your goals.
To assist in the completion of your project we can, if necessary, recommend professional specialists such as Soil Scientists, Aerial Photographers, Structural Engineers, Traffic Engineers, and Environmental Professionals.
We provide quality, in-depth land research.
We can offer a full range of services from conceptual designs to Land Surveying and site testing to preparing final designs to carry a project through Local, State and Federal permitting to construction stake out to project bidding to construction supervision as may be required by our Clients.
Towne Enginerring Inc.

Mail: P.O. Box 162, South Windham, CT 06266
Office: 1 Richmond Lane, Willimantic, CT 06226

TEL: 860-423-6371
Fax: 860-423-5470
Email: towne@towneengineeringinc.com